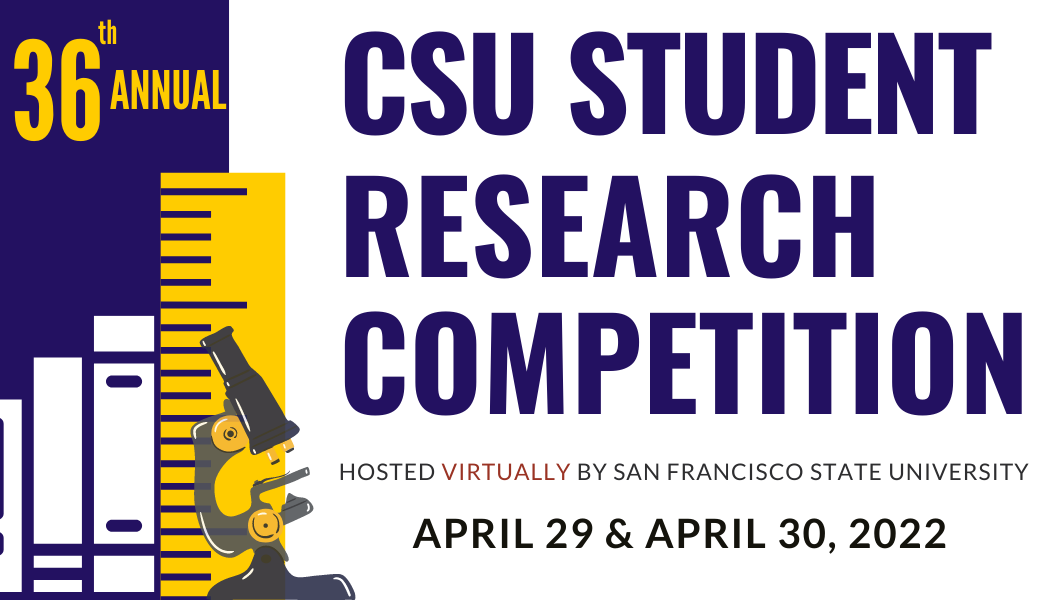 California State University Systemwide Student Research Competition
The California State University Systemwide Student Research Competition is an annual event that brings together scholars from the 23 campuses of our California State University system. The competition showcases undergraduate and graduate research, scholarship, and creative works by recognizing outstanding student accomplishments. Undergraduate and graduate student participants from all disciplines are judged by experts for their oral presentations and written abstracts. Students who compete in the CSU Student Research Competition can win $500 for first place and $250 for second place recognition in their session.
Each CSU campus appoints a campus coordinator and develops its own procedures for selecting student delegates to the systemwide competition. Interested students should contact their campus coordinator for more information. Only those students endorsed by the campus coordinator can enter the systemwide competition.  The campus coordinator must submit a list of students who have been selected for the systemwide competition to ResearchComp2022@sfsu.edu  by Wednesday, March 16, at 11:59 p.m. (PDT).
Each project must be registered via the CSU Student Research Competition 2022 Competitor Registration form by March 18, 2022 at 11:59 p.m. (PDT).
Student questions should be directed to the local campus coordinator. Coordinators for other campuses may contact ResearchComp2022@sfsu.edu with any questions. If you have any additional questions, please contact Dr. Kate Hamel at  hamelk@sfsu.edu and Khaled Ezzat at khaled@sfsu.edu at San Francisco State University.
Interested in entering the competition? Review the Overview & Guidelines on the cards below.
Research Categories:
Behavioral, Social Sciences, and Public Administration
Biological and Agricultural Sciences
Business, Economics, and Hospitality Management
Creative Arts and Design
Education
Engineering and Computer Science
Health, Nutrition, and Clinical Sciences
Humanities and Letters
Physical and Mathematical Sciences
Interdisciplinary
Competition Criteria each entry (oral presentation plus written summary) will be judged on the following:
Clarity of purpose
Appropriateness of methodology
Interpretation of results
Value of the research or creative activity
Ability of the presenter to articulate the research or creative activity
Organization of the material presented
Presenter's ability to handle questions from the jury and general audience